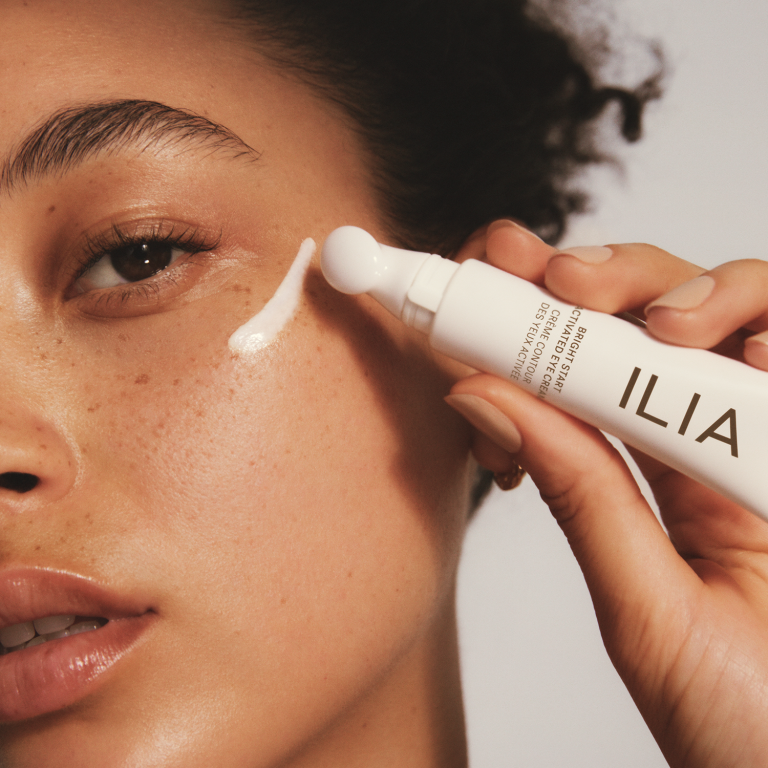 What's Underneath?
The secret to seamless makeup application is all in the skincare. Taking a few moments to properly prep your skin prior to makeup will do wonders for how it interacts and sits on the skin as well as increasing longevity. 
Many of us rush the process and end up disappointed with the results or believe that we can't achieve the look we want on our own. It's far more simple than it seems and it only takes an extra 5-10 minutes of your time. Here's a guide on how to set yourself up for success in the makeup department. 
Try not to get overwhelmed by all of the products and information out there and start to build up from the basics. 
MOISTURIZE 
A solid skincare regime whether it consists of two or ten products is vital with or without makeup on top. 
Having well-moisturized skin will help to smooth and hydrate, ensuring that makeup can't cling to dry patches or settle into fine lines. 
It's important to know that all moisturizers aren't created equal and it may take some trial and error to find the perfect one that sits well for you underneath makeup. For extra Dry or Mature skin, I might suggest a couple of drops of oil pressed into skin to hydrate the top layers and act as a barrier to prevent moisture loss. For Oily skin, opt for a lightweight gel moisturizer to balance oil and sebum production and for Normal/ Combination skin, pick a moisturizer that is hydrating but not too thick or balm-like in consistency. 
Take it slow and give your moisturizer (and this also goes for each product applied on your skin) time to sink in before moving onto your next step. This helps to minimize movement of products which can lead to pilling. 
If you're in a rush, skip a step or two (as long as it's not moisturizer!). 
The Wilds, Daydream Day Cream $58 
One moisturizer I've found to work well on most skin-types under makeup is the Daydream Cream from Vancouver brand, The Wilds. A subtle scent, velvet texture that sinks into skin and never interferes with the makeup on top. 
WHILST YOU WAIT 
In the moments between moisturizer and makeup, take your attention to lips and eyes. 
The skin around both of these areas is delicate and often needs a little extra TLC. Consider a rich lip mask to make lipstick application smoother and an eye cream with illuminating properties to gently brighten and trick yourself into believing you slept for 9 uninterrupted hours. 
Ilia, Bright Start Eye Cream, $62  
Feels like nothing, looks like bright-eyed and bushy tailed. Ilia has done what it does best and created a high-performance skincare product that interacts seamlessly with makeup. 
Light-reflecting pearl helps to illuminate the under eye area with the cooling applicator tip acting as a gentle massage tool. Whilst the effects are immediate when it comes to puffiness and brightness of the undereye area, over time and with consistent use the eye cream will also work to renew and revitalize the skin. 
Ilia Lip Wrap Hydrating Mask, $30 
A mask to gently exfoliate dead skin all whilst delivering deep moisture to the lips. Made for an overnight mask, this has made its way into my daily routine as I find it to be just the right richness for dry, chapped lips. 
 It also allows for a much smoother lipstick application if that's your thing. If you're using a lip pencil, I might lightly dab of excess product with a tissue before going in but that depends on how much of the product your lips have soaked up. 
PRIME
Not necessarily an everyday essential but on days that I need my makeup to last a little longer or my skin feels a little lack lustre I'll reach for a primer. In summer months, this comes into rotation more frequently to avoid melting makeup.
There are targeted primers that boast varying properties depending on the needs of your skin (such as mattifying, hydrating, glow-boosting etc) but my feeing is that with the right skin routine and moisturizer underneath, you can opt for a more general primer.
Ilia True Skin Radiant Priming Serum, $69
Clean, silicone free primer to prep and protect skin against pollution whilst also refining tone, smoothing texture and boosting radiance for long-lasting makeup. 
Patting a few drops to skin once moisturizer has absorbed and allowing to sit before foundation/tinted SPF yields the best results. 
SET 
A good mist can help to boost moisture which leads to plump, dewy skin but also acts as a "setting spray" to help keep makeup in place. If you struggle with dryness throughout the day, keep a mist on hand to refresh your skin. 
Mists can also be beneficial for those with more combination skin, take a look at our recommendations below: 
Josh Rosebrook Hydrating Accelerator, $44
Spritz away! Before, during and after makeup application for maximum hydration. 
For those who need a bit of oil control, opt for this. Soothing and hydrating whilst  balancing the natural oils in our skin.