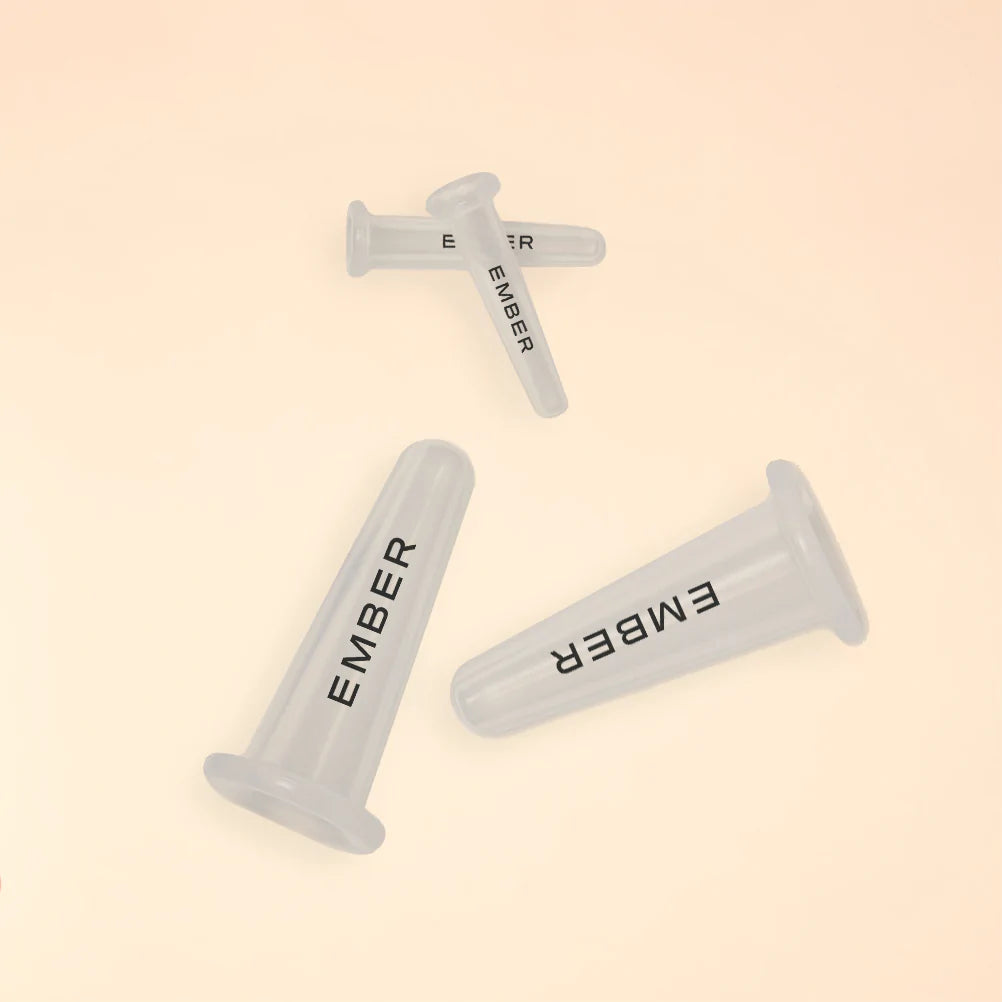 Let's Talk: Facial Cupping
 An ancient modality used in Traditional Chinese Medicine, cupping has been around for centuries and often used to cure ailments such as muscle aches and pains whilst also easing anxiety, boosting blood-flow and promoting a sense of calm. 
When it comes to facial cupping, consistent use has been shown to tighten and tone the jawline and chin, smooth the décolletage, contour the eye area and stimulate circulation. 
 HOW DOES FACIAL CUPPING WORK? 
Facial cupping employs the same principles of traditional cupping only with a more gentle vacuum and no bruising. The way it works is by creating suction with the cup, this will pull the facial muscles and promote blood flow to the surface of the skin. 
Many of the results with facial cupping are instant and include a lifted, plump and smooth complexion and contoured eye area. Cupping will also aid in healthy lymphatic drainage, reducing puffiness from excess fluid in the face. 
After cupping, you should feel more relaxed and at ease than before. 
ANYTHING TO NOTE BEFORE TRYING?
It is suggested  that those with extra-sensitive or reactive skin should use with caution and less frequently. It's a perfectly safe at-home technique but ensure that you are comfortable in your knowledge of how to use the cups safely as you don't want to end up damaging the blood capillaries in your skin from the suction.
There are a couple of techniques you can use and you can always find  demonstration videos online for guidance. The main thing to remember is to keep the cups moving and avoid leaving the cup on any one area for more than a second or so. 
It is also advised that 1-2 a week is sufficient for results, any more and it could be too stimulating for skin. 
HOW TO USE THE FACIAL CUPPING METHOD
Step One: Cleanse skin well. 
Step two: Warm a couple of drops of your favourite facial oil into the palm of your hand and apply to skin to provide "slip" and allow the cups to gently glide across the face (just as you would with any other facial massage technique). 
Step 3: You're ready! I'll insert the two techniques recommended below (directions from Ember Wellness' website):
1. Sweeping Technique
"The first technique is called the sweeping technique; gently squeeze the large cup on both sides, apply to skin and release to create suction between skin and cup. Use this squeeze and release technique in light sweeping strokes in an upward motion from chin to temple, focusing on areas of tension and concern." 
2. Staccato Technique 
"The second technique is the staccato technique; where you gently squeeze the large cup in the areas you want to focus on (jawline, cheek, 11 lines, smile lines, etc) and squeeze and release the cup in short, quick bursts. This will gently move the skin and allow for increased blood and cell flow."